Set for the privacy screen / fence made of aluminum
Privacy fence "Closed optics"
Aluminum privacy fence. With the new and innovative system technology, we offer you the desired privacy protection.
A "smart and flat" optics stand here
in the foreground.
Installation is quick and easy
in the "click process".
With our filling profiles 140x8mm and the H-profile
implemented the closed fence solution with ease.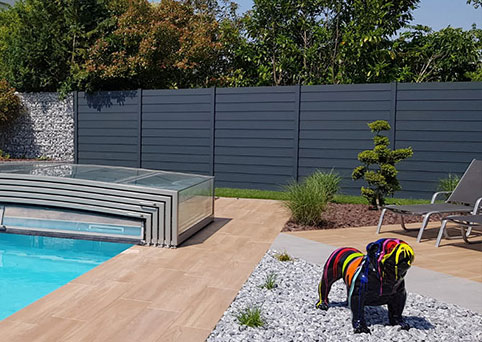 Contents 1 set package "Privacy Protection"
– 12 filling profiles in selected color (1800x140x8mmLxHxW)
– 1 start and end profile each
– 11 H profile connectors (15×15 mm)
– 2 slot nuts
– 2 chip nuts
– 2 groove mounting profiles
Posts are not part of the set! Matching posts can be found here!
The prices shown on this page include VAT and packaging for the set. Shipping costs on request!
Our team of consultants will be happy to answer further details about our products, accessories, orders and questions about packaging and shipping or collection from the delivery station in Wohratal/Hesse!
Tel. 0 64 53 / 21 199-50
You can also use our contact form if you have any questions!